The long-anticipated $3.7-billion Fontainebleau Las Vegas is set to welcome guests this winter.
The project is only the second newly built resort to open on the Las Vegas Strip in the past decade and comes on the heels of a $1-billion expansion of its iconic archetype, Fontainebleau Miami Beach.
"The opening of Fontainebleau Las Vegas marks a significant milestone in our company's legacy, as we look to create an era-defining moment in Las Vegas history," said Brett Mufson, Fontainebleau Development's president, in a release obtained by Travel + Leisure.
For Jeff Soffer, the chairman and CEO of Fontainebleau Development, this is not his first foray into the Las Vegas market. He partnered with MGM Mirage to develop The Signature at MGM Grand in 2004. The next year, he announced that Fontainebleau would be developed at the northern end of Las Vegas Boulevard. Now, the hotel is scheduled to open on Dec. 13.
The Fontainebleau Las Vegas will have an imposing presence, not only thanks to its cantilevered porte-cochère, but also because the 67-story, 3,644-room hotel will be the tallest occupiable building on the Strip.
Once inside, guests will get immediate access to registration and can go directly to their rooms without setting foot in the casino. The intimate arrival experience is curated by David Collins Studio — its signature aesthetic will be apparent as guests head beyond the elevator banks and to the lobby lounge reminiscent of the collective's work at Qatar's Mandarin Oriental Hotel, Doha, and Harrods, the department store in London.
The rooms play with shades of cerulean and chrome with coral accents. The modern spaces are accented by mercury-glass mirrors and brass bowtie drawer pulls, while surfaces are covered with gray wood veneer, pearlescent shagreen, and Arabescato marble. All accommodations feature floor-to-ceiling windows, soaking tubs, and custom Beautyrest mattresses.
Past the foyer and bar lies an airy casino with curvilinear walls. Historically, Vegas casinos has low ceilings and little natural light. But expect the "mold to be shattered" at Fontainebleau, according to Soffer, as the 150,000 square feet of gaming space will sit under 42-foot-high ceilings.
The space is broken up by canopied nooks and crowned by a 80-feet-wide and 60-feet-tall chandelier composed of 1,200 bowtie-shaped glass columns. Guests visiting one of more than 30 luxury retailers dotting the perimeter on the first and second floors will also have prime views of the action.
There will be plenty to discover within this entertainment hub, from a 3,800-seat, 90,000-square-foot theater to experiences created by Miami's nightlife icon David Grutman. He will open a 50,000-square-foot outpost of his nightclub Liv. In the spring, he will unveil a "stadium-styled" 35,000-square-foot Liv Beach "where the two-story day club is built around the DJ booth," said Soffer.
Liv Beach is just one of seven water features on the resort's six-acre pool complex perched on the third-floor roof deck, which will house four bars, two restaurants, and 2,300 square feet of gaming space.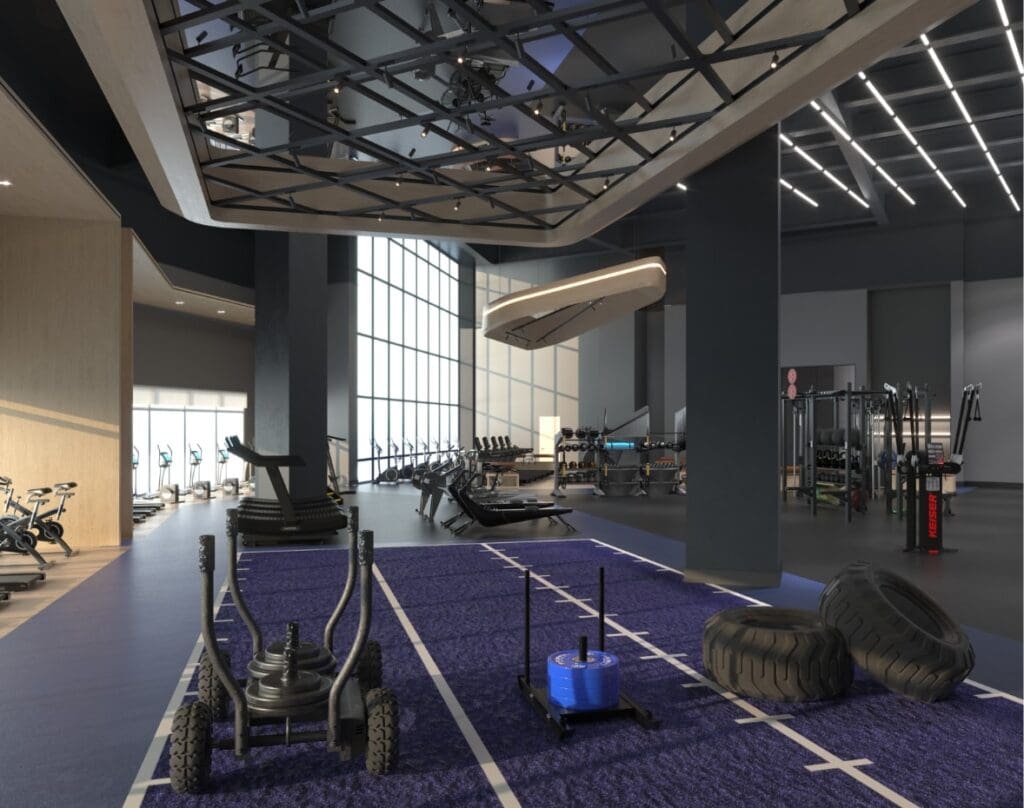 Beyond the pool, wellness takes center stage within the 14,000-square-foot fitness center and 55,000-square-foot Lapis Spa. (The spa shares the same name as the one at Fontainebleau Miami Beach.) The facilities will feature 44 treatment rooms, a salt cave, an herbal inhalation room, and multiple saunas, including one dedicated to Aufguss where the sauna masters employ choreographed towel flicks to move heat throughout the space. In addition to men's and women's hydrotherapy lounges, there will also be one of the city's largest co-ed wet rooms where the lighting will evolve throughout the day.
The massive gym promises to be the most stocked in the city and will feature Peloton bikes, Woodway treadmills, Hydrow Rowers, VersaClimbers, and Echo bikes alongside more traditional cardio equipment. Advanced strength equipment will include a Jacob's Ladder, HIIT modular system, and sled push and tractor tire flip areas, which is a first for the Strip. A movement studio will offer daily yoga, Pilates, and stretching classes.
As for food and beverage, there will be 36 bars and restaurants. Grutman will bring his South Beach meat emporium Papi Steak to the Vegas culinary scene. It is known for its Glatt Kosher tomahawks and Siberian caviar–topped Monop potatoes. And look for a third outpost of Komodo, Grutman's flashy temple of pan-Asian cookery — the original debuted in Miami in 2015.
The property will include a restaurant by chef Gabriela Cámara. (The James Beard Award semifinalist is famous for her Mexico City restaurant Contramar and for being on Netflix's "Iron Chef: Quest for an Iron Legend.") The space will feature its own reiteration of Casa Dragones Tasting Room from San Miguel de Allende, Mexico, where guests can experience the ultra-premium brand's complete agave library.
Laëtitia Rouabah, who most recently served as executive chef at Benoit in New York City, will open La Fontaine, focusing on elevated French fare. And for Italian cuisine, look for Evan Funke, who helms three coveted L.A. haunts: Felix Trattoria, Mother Wolf, and his eponymously named Funke. He is slated to launch his first out-of-market restaurant at Fontainebleau Las Vegas.
The resort will also operate its own traditional steakhouse — Don's Prime, named for Soffer's father — with a dry-aged meat locker. Chris Arellanes, the grilling master behind Kyu, will open his fourth outpost here. And British restaurateur Alan Yau — the man behind Wagamama, Hakkasan, and Yauatcha — will create a Chinese palace dining experience, as well as a more relaxed noodle den.
Finally, acclaimed chefs Masa Ito and Kevin Kim, who run New York City's sushi counter Ito, will help round out the hotel's fine dining options. Look for the duo to launch the city's most exclusive omakase spot, as well as a temaki counter at a more affordable price point.