Location: Hyde Park, London
Pricing: Starting at £139
La Suite West is ideally located right next to the beautiful Hyde Park in central London, offering guests nearby visit access to appealing locations on the hotel's doorstep such as Portobello Road Market and Kensington Palace Gardens.  The hotel is a popular destination for the stylish and savvy business or leisure traveller.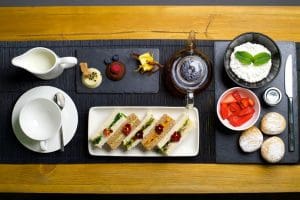 The hotel is praised on its typically English afternoon tea that is completely vegan. Included within the offering is an array of finger sandwiches, homemade scones with fresh coconut yoghurt and strawberries – the perfect selection to ease you into the second half of your day. With the vast detoxifying and revitalising benefits that the afternoon tea offers from it's menu, it's a great way to relax and naturally refresh. As the colder season brews, La Suite West has just launched a new Winter afternoon tea to coincide with the surroundings.
The 79 rooms within the boutique hotel all hold your desired amenities including complimentary Wifi, in-house dining and Italian filter coffee.Also on offer is complimentary gym access – great for guests who want to stay fit on their travels.
The "RAW" Restaurant within the hotel was recently awarded 'Best Vegan Menu at the PETA UK Vegan Food Awards and deservedly so, as it offers a beneficial health experience like no other, with not just food, but also alcohol free 'mocktails' to satisfy your taste buds. The meat-free restaurant facilitates 50 people and is open for the public as well as hotel guests for an all day dining experience.
With only being a walking distance away from Notting Hill, Knightsbridge, Marble Arch and the West End, La Suite West hotel is situated in a perfect location. Its easy access to  national travel from Paddington Station and local transport across London via Bayswater and Queensway is perfect for an explore around London or to navigate yourself to a central meeting.