This historic property, known as Florida's legendary "Pink Palace," offers a beachfront oasis with its opulent charm and luxurious amenities. From its prime location on a white-sand beach to its elegant decor and exceptional service, The Don CeSar Hotel truly provides a memorable experience.
Situated just steps away from the Gulf of Mexico, The Don CeSar Hotel boasts an enviable location that is hard to beat. Guests can enjoy the pristine white-sand beach right at their doorstep, as well as easy access to the resort's shopping and dining options.
For those looking to explore the area, the hotel is conveniently located just nine miles away from the Chihuly Collection and Dali Museum in the city of St Petersburg.
Traveling to the hotel is a breeze, with it being only four miles west of main motorway I-275 and 28 miles from Tampa International Airport. Additionally, the Beach Trolley runs the length of the coast, with a trolley stop conveniently located outside the hotel.
Style and Character: A Historical Gem
Dating back to 1928, The Don CeSar Hotel is a registered Historical Hotel of America that exudes timeless elegance. As I walked through the imposing exterior, I was greeted by an elegant lobby adorned in dazzling white, contemporary light fittings, and striking Areca palm trees. The hotel has done an exceptional job of maintaining the original infrastructure, creating a small-scale and intimate ambiance that transports guests to another era. The attention to detail and preservation of the building's historic charm is evident throughout the property.
Service and Facilities: Exceeding Expectations
The service at The Don CeSar Hotel is nothing short of exceptional. The staff go above and beyond to ensure every guest feels welcomed and well taken care of. With a wide range of amenities and activities, there is always something to do at the hotel. Whether you prefer lounging by one of the two main pools, working up a sweat in the fitness studio, enjoying beach activities, shopping at the boutiques, or indulging in a spa treatment, there is something for everyone. The tropical gardens provide a serene escape from the bustling crowds, offering a tranquil corner to relax and unwind.
Rooms: A Blend of Elegance and Comfort
The 277 rooms and suites at The Don CeSar Hotel are a true reflection of the hotel's intimate and idiosyncratic style. Each room is beautifully decorated, evoking a beach house feel with hints of white sand beaches and sky-blue accents. The attention to detail is remarkable, with every room equipped with modern amenities such as a coffee-maker, mini-fridge, and iHome docking station. The spacious suites offer an added touch of luxury, with features like a dining room and kitchenette. It's worth noting that only the two lower floors do not offer a view of the sea or intracoastal waterway.
Food and Drink: Culinary Delights Await
The dining options at The Don CeSar Hotel are nothing short of extraordinary. The Four Diamond-rated Maritana Grille has been recognized as one of the top 10 seafood restaurants in the US, offering a dining experience like no other. Sea Porch Café is the perfect spot for breakfast, lunch, and dinner, with must-try dishes like Cuban bread French toast for breakfast and fish tacos for lunch. The Sunday Brunch is a feast for the senses and a favorite among locals. The Rowe Bar, with its beautiful nautical setting, is the ideal spot for pre-dinner drinks and post-dinner relaxation around the firepit. And let's not forget Uncle Andy's Ice Cream Parlor, a delightful treat for both kids and adults with its wide array of sundaes, shakes, and homemade ice creams.
Value for Money: A Priceless Experience
While The Don CeSar Hotel may come with a higher price tag than other nearby resorts, the value for money is undeniable. The hotel offers a unique and unforgettable experience, combining its historic charm, impeccable service, and luxurious amenities. Prices for double rooms start at $260 (£188) in low season and $680 (£493) in high season, with breakfast excluded. It's important to note that a daily resort fee of $25 (£18) is automatically included in all reservations, covering Wi-Fi, access to the fitness centre and classes, pool and beach games, history tours and tastings, in-room coffee, and two bottles of water per day.
Access for Guests with Disabilities: Fully Inclusive
The Don CeSar Hotel is committed to providing a fully inclusive experience for all guests. Fully equipped rooms are available to accommodate individuals with disabilities, ensuring their comfort and convenience throughout their stay. The hotel prides itself on its accessibility and strives to make every guest feel welcome and catered to.
Family-Friendly: Fun for All Ages
Families will find The Don CeSar Hotel to be a haven of entertainment and excitement. The Camp CeSar program offers a wide range of activities for children aged four to 12, including pool games, scavenger hunts, and beach soccer. The hotel also provides a library of games, kids' menus, and even a camp for children. Teens are not forgotten either, with access to music download cards and "Dive-In" movies at the pool. The hotel's family-friendly atmosphere ensures that everyone, young and old, can create lasting memories.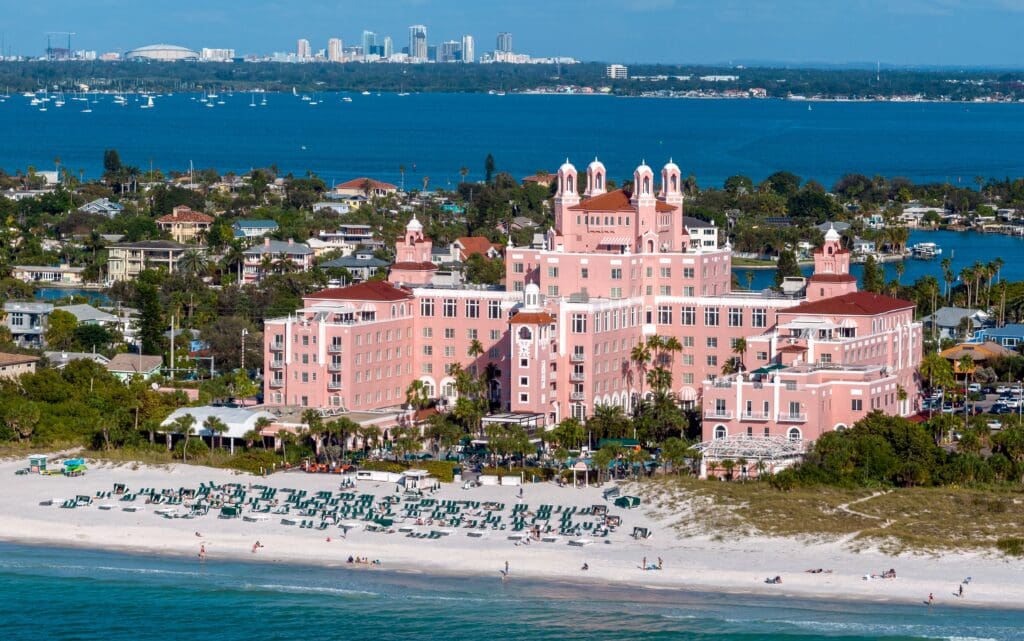 The Don CeSar Hotel: A Beachfront Paradise
In conclusion, The Don CeSar Hotel in St Pete Beach, Florida, is a true gem that offers a beachfront paradise like no other. From its historic charm and elegant decor to its exceptional service and luxurious amenities, every aspect of the hotel is designed to provide an unforgettable experience.
With its prime location, stunning views, and a wide range of activities for all ages, The Don CeSar Hotel has truly mastered the art of hospitality.
Whether you're seeking a relaxing getaway or a fun-filled family vacation, The Don CeSar Hotel is the perfect destination. Book your stay now and indulge in the ultimate beachfront retreat.