Claremont Club & Spa
in Berkeley is a beautifully iconic luxury hotel located in the Oakland Hills, ideally just 12 miles from San Francisco.
Offering the best of the Bay Area, this newly restored 'urban resort' is stationed perfectly for you to make the most of what the destination has to offer.  
The location of the hotel offers convenient access to Oakland International Airport and San Francisco International Airport – perfect for both business and leisure travellers. Additionally, access to the University of California Berkeley and downtown Oakland, as well as countless restaurants, nightlife and attractions in both Berkeley and Oakland makes the experience of your stay even better.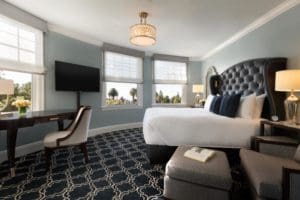 Claremont has a richly historic background from originally being built as a private residence during the California Gold Rush. Frank Havens and Borax Smith planned to create a resort on the grounds after winning the property in a game of checkers. 
From being opened in 1915, Claremont celebrated its 100th anniversary in 2015 following an extensive renovation. Claremont homes 276 beautifully restored guest rooms and suites with bay view rooms and suites offering truly breath-taking views of San Francisco Bay. The iconic Tower Suite also boasts unparalleled views from a private outdoor deck.  
The hotel offers four distinct restaurants and bars serving a range of cocktails, poolside cuisine, fine dining and more – something to satisfy every guest's palate.  
Described as an 'urban resort', the hotel features amenities including tennis, swimming , fitness classes and more. If you'd rather wind down after your day of exploring, the Spa on site homes 32 appointed treatment rooms, a full-service hair and nail salon, as well as eucalyptus steam rooms, saline whirlpools and deluge showers. 
You can fly in premium to Oakland California from £399 one way.
Location: 41 Tunnel Road, Berkeley, California, United States, 94705