The Levin Hotel is right in the heart of where you want to be as it is the closest hotel to Harrods, you are in the perfect spot to explore and shop to your heart's content!
With its location in Knightsbridge, it also means that you are not far from Sloane Square, the Knightsbridge tube station and also the Victoria and Albert Museum.
The hotel is pastelled with pale duck egg blue walls, complemented with designer lighting by Sharon Marston that impressively hangs down through the stairway.
The Levin Hotel is one of the most sophisticated townhouse hotels in London and is home to 12 bedrooms with many visitors regarding it as a 'home-from-home'. The accommodation is the perfect stay for any discerning London visitors seeking a hotel with personality and great charm.
The Metro, The Levin Hotel's restaurant, stands as a common favourite with locals. It uses the best of British produce to serve breakfast, brunch, lunch and dinner to its visitors and is the perfect place to meet with friends for a bite to eat or evening beverage. Enjoy Happy Hour every week day between 5 – 7pm; two glasses of house wine and a bowl of nachos £8.00.
With 24 hour room service, complimentary WiFi and printing facilities, this is the perfect place for a business traveller as well as the more leisurely traveller. Services on offer also include iPads on request, in addition to the availability of car valet and parking for a set charge.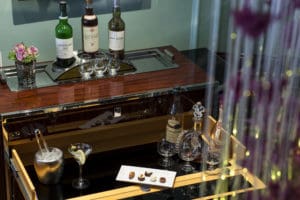 The Levin Hotel also copes well as a unique venue for celebration drinks, leaving party or client reception for up to 60 people with exclusive private hire packages being available from £1200 minimum spend.
Location: Knightsbridge, London
Pricing: Starting from £216 per room per night (single occupancy)
Ideal for: Business or leisure travellers