Your flights booked, you've found your passport, and sorted your hotel but what about your luggage? Check out some of our top picks!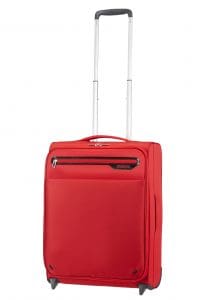 Bon Air: 4-wheel cabin baggage Spinner suitcase
Size: 55x40x20cm
Current price: £71.20
http://www.americantourister.co.uk/bon-air-4-wheel-spinner-55cm-20inch-strict-cabin-baggage-black/product-en.htm?or=7816119122
This practical cabin-sized case is great for coping with a short stay to your desired destination. The strategic design means that it is light in weight, but strong in structure, as a result of its 100% polypropylene build. Features such as multidirectional wheels, internal divider pad and adjustable wheel handle work for perfect use for all types of traveller, as well as the fixed 3-digit TSA combination lock that guarantees safety for all your belongings.
The case is great value for money and offers a wide choice of available colours to choose from.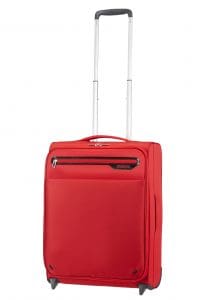 Lightway: 2-wheel cabin baggage Upright suitcase 
Size: 48x31x19.5cm 
Current price: £75.00
http://www.americantourister.co.uk/lightway-2-wheel-upright-48cm-17inch-cabin-baggage-lava-red/product-en.htm?or=7816119122
Lightway is the perfect cabin-luggage case that is praised for its lightweight property, which lists it as American Tourister's lightest suitcase. The strength and practicality is upheld to maintain an impressive viewpoint on the case, giving you all the wants and needs of an ideal luggage type. The unique look and feel makes you stand out from the crowd, and being conveniently coloured in 'lava red' makes the difficult job of identifying your case on the carousel a whole lot easier!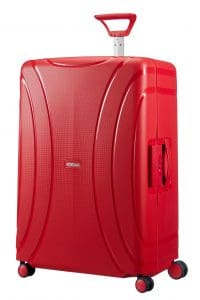 Lock'n'Roll: 4-wheel medium Spinner suitcase 
Size: 69x50x29cm
Current Price: £129
http://www.americantourister.co.uk/lock-n-roll-4-wheel-spinner-69cm-medium-suitcase-dynamic-pink/product-en.htm?or=7816119122
If you're looking for more of a conventional hard type of cabin luggage, Lock'n'Roll is for you. Don't be deceived, as even though the external case may seem heavy, the case still remains ideally lightweight. The case comes in a number of resplendent colours, branching away from the typically standard and generic darker colours that most cases offer. The cool cubic space design allows you for maximum space to store your belongings, that are protected through the feature of a 3 point lock with TSA function.  
Air Force 1: 4-wheel medium Spinner suitcase
Size: 66x46x28cm with an expanded size of 66x46x32cm
Current price: £109
http://www.americantourister.co.uk/air-force-1-4-wheel-66cm-medium-spinner-suitcase-galaxy-black/product-en.htm?or=7816119122
Claiming to have 'high end features with a low end price', this case is bound to cope to all your requirements for the perfect travel case. The dotted and matt texture supplied from the PC+Polyester material offers resistance against scratches, guaranteeing a long-living pristine life for your luggage. Also, being expandable in compliment with its internal divider pads, means that you can optimise your space to cope for your necessary packing requirement and is well worthy of a week's stay. You can feel comfortable on your travels as the fixed 3 digit TSA combination lock is featured to ensure safety of your possessions. 
Samsonite: Cosmolite Spinner 
Size: 55x40x20cm
Current price: £223.20
http://www.samsonite.co.uk/cosmolite-spinner-55cm-copper-blush/73349-5047.html
This Cosmolite offers five sizes in this particular design, this of which is the smallest – ideal for cabin luggage. It's made with the revolutionary Curv® technology which is an advanced impact-resistant, lightweight material known for its high energy absorption and outstanding impact performance. This lightweight case also features a combination lock with TSA, and a nifty, sophisticated look which is maintained throughout its 4 options of colour. 
Samsonite: X'Blade 3.0 Upright Expandable
Size: 77x48x33cm with an expandable size of 77x48x38cm
Current price: £165
http://www.samsonite.co.uk/x-blade-3.0-upright-expandable-77cm/75100.html?dwvar_75100_color=1041&cgid=
Offering 'more volume and packing capacity than ever before with surprising less weight' and a smart appearance, this case is a perfect fit for those trips that register a longer stay. This particular size is perfectly adjustable to cope to your needed space and its softside external material offers great opportunity to cope for the belongings inside. The classic black colouring of the case is perfect to give you the smart, sophisticated travel look that you yearn to reflect.   
Samsonite: Paradiver Light Duffle on Wheels
Size: 28x67x42cm
Current price: £149
http://www.samsonite.co.uk/paradiver-light-duffle-on-wheels-67cm/74851.html?dwvar_74851_color=1090&cgid=
If you're favourable of a more holdall type style of luggage, the Paradiver Light Duffle will be more enticing for you. Its alternative holding ways are great and the qualitative wheels provide support for when the luggage gets just that bit too heavy! The exterior pockets are perfect for containing personal quick-reach belongings and the main compartment inside is spacious and ideal for your desired storage. 
Hartmann: Intensity SPL Spinner Black/Tan
Size: 55x36x25cm
Current price: £425
http://www.hartmannluggage.co.uk/intensity-spl-spinner-55cm-black-tan/product-en.htm?or=8778200832
The beautifully polished black and tan themed appearance of this case seeks a matching faultless similarity in relation to its internal features. The deluxe interior features include a toiletry pouch and shoe bag to ideally separate your belongings and the expandable nature of the case allows you for more storage space. The sleek metallic look embellished with signature Hartmann leather accents provides a stunning way to travel. Whilst the integrated TSA combination lock will protect your belongings inside, the luggage cover will protect the case externally from rain and dirt that may come into contact with it.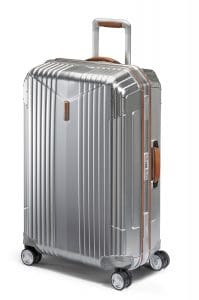 Hartmann: 7R Master Spinner
Size: 70x49x29cm
Current price: £625
http://www.hartmannluggage.co.uk/7r-master-spinner-70cm-26inch-rose-gold/product-en.htm?or=8778200832
The classic look of the 7R Master Spinner is the ultimate head-turner. The aluminium design is the optimum of craftsmanship and the attention to detail is mirrored through the stunning physical image that this case has. With a luggage cover and three locks on the side (the middle being an integrated 3 digit TSA lock), you can travel hassle-free where your belongings are ensured to be safely held. The garment frame divider pad with hanger in the top compartment and garment frame divider pad in the bottom compartment attends for all your needs of clothing.
Samonsite: Lite-Cube DLX Spinner
Size: 76x50x32cm
Current price: £455
http://www.samsonite.co.uk/lite-cube-dlx-spinner-76cm/61244.html?dwvar_61244_color=1549&cgid=
An elegant look is created through the deluxe approach to Samonsite's classic, Lite-Cube case. Using sophisticated leather with stitching detailing, offers a premium look to this beautifully designed lightweight case. It features a fully integrated combination lock with TSA function to protect your well organised belongings inside the internal compartments within the case. Including a laundry bag within its internal features, is great to help separate shoes and dirty clothes for an organised travel experience.