To avoid the hefty rent demands of many of London's office spaces, the evolution of coworking has meant that startups and SMEs have been able to progress within their businesses at affordable rates. Not only this, coworking spaces allow for the interaction between business individuals, consequently enabling them to gain potentially valuable contacts in the process. The benefits of coworking continue, as coworking supports the general consensus that most people in the workplace feel that flexibility helps them to work as effectively as possible. Allocation of space allows workers to operate in a 'work-from-home' style environment, however, without the distractions of home life and with more efficient resources.
London has some of the quirkiest, communal and spacious coworking areas existing, so narrowing them down, proved to be a difficult task.
Central Working
Location: Bloomsbury, Shoreditch, City, Farringdon, Whitechapel and Paddington.
Pricing: hot desking starts at around £40 per day.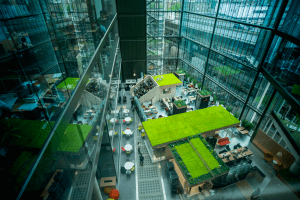 Founded in 2011, Central Working provides over 1,800 businesses of all sizes with the environment, community and support to thrive. Its network of beautifully designed clubs in different prime locations, allow businesses from a range of margins to be reached. Members have the option of dropping-in, a permanent office or using a collaborative workspace. A close bond between members and the Central Working team is valued to ensure that businesses are happy to meet, share and collaborate without hesitation. Central Working guarantees a meaningful connection to your business in your first 30 days or you get your money back. In September 2015 Central Working won the Employee Engagement award at the HR in Hospitality awards, with the judges recognising Central Working's innovative, honest and entrepreneurial approach to staff training and motivation.
In 2017, Central Working will open the UK's largest innovation space in Cambridge in a partnership with Trinity College Cambridge.
Impact Hub Westminster
Location: Haymarket
Pricing: starting at £20 for half of the day.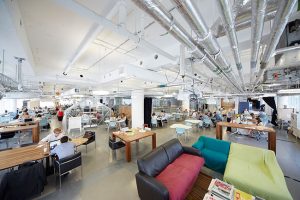 Another coworking space that launched in 2011 is Impact Hub Westminster – one of the largest of a global network of locally owned collaborative working spaces. The workspace offers an affordable, yet flexible and supportive environment for organisations to grow. Impact Hub offers various types of membership, dedicated desks or team desk space. They believe the struggle of isolation is exposed to early stage organisations and so the workspace's environment and services are designed to support members from these businesses in various forms of support. Continually, they host a flow of events and programmes that provide members with networking opportunities, as well as a chance to learn more about the sector they are working in. Uniqueness stems from being locally owned but globally connected, meaning that their members benefit from localised support but join a global community. Their Hub passport further allows members to benefit, as it gives them opportunities to work in other Impact Hub's across the world – in 80 locations.
www.westminster.impacthub.net
Huckletree
Location: Shoreditch and Clerkenwell
Pricing: starting at £35 for the day.
Huckletree is one of London's fastest growing coworking communities and they believe that no matter whether you work for a large tech business or as a solo entrepreneur, opportunities should be available to everyone. They choose to surround themselves with people who share the same values as them to ensure inspiration and motivation are upheld. By offering shared workspaces for a diverse mix of ambitious entrepreneurs, startups, larger businesses and investors, Huckletree helps to promote the flow of innovative ideas and creations. Their Shoreditch space offers stretching zones, hydration stations, indoor and outdoor gardens and little clutters of inspiration. In addition, they have a classroom for 40 and 4 meeting rooms with affordable pricing. Their space in Clerkenwell was launched in 2014 and is slightly different as opposed to their Shoreditch space as it is smaller, but nevertheless still beautifully designed.
Co Work Hub
Location: North Acton
Pricing: starting at £20 for the day.
Co Work Hub is one of the largest coworking offices in West London. The space holds endless features within such as, a gym, showers, 6 meeting rooms, 1 conference room, free beer, 24 hour access, dedicated desks, great coffee machine, games room with a pool table and table tennis, super-fast internet, bike racks and car parking. Even though the meeting rooms are free for members to use, external clients can still pay for usage for an affordable rate of £20 + VAT per hour. Most of their members are local but come from diverse sectors from PR to web developers. The Co Work Hub community allows the members to carry out business between each other, mingling entrepreneurs with freelancers and small companies with large companies – generating worthwhile contacts in the process. Their 'Wellbeing Wednesday' is a unique weekly opportunity for members to take part in yoga, see a nutritionist, learn some healthy food options, as well as receiving an office massage. The networking events held at Co Work Hub also welcome members and encourage support of the local community.