The majority of us are either a Summer or a Winter person and I've got to be a Winter one. I love the cosiness our clothes become, the amazing decorations and lights put up all around and of course, the food!
Travelling at this time of year can be a pain when snow is in the question, but if you're able to you should make at least a couple of these destinations your mission to visit for the sheer festive experience they provide and ambience they project. Last minute, short stays are all you need to catch a glimpse of how Christmas and New Year is celebrated in different parts of the world.
London
Maybe I'm biased, but I would say not. Tourists travel from all over the globe to visit London and at Christmas time it is truly spectacular. The lights and decorations neatly scattered around the capital are beautiful and present the perfect opportunity for great picture taking.
The Christmas trees are amazing, and personally I think the one in Covent Garden is the best and made even better by the shopping!
Shops go all out with their window displays that show the great deals on offer, especially in Oxford and Bond street where shoppers are truly in their element. Ice Skating in Canary Wharf is always a winner and the glass roof means you're not limited by the UK weather.
If you're looking for spectacular views why not capture the best of London and jump on board the London Eye? The landscapes you will witness will provide you with a sight of the city as you've never seen it before.
New York, America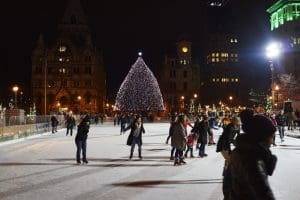 Typically featured in many Christmas films including Home Alone, New York is on the list for the top cities to visit during the festive season. If you think the hustle and bustle throughout the year is enough, wait until Christmas and New Year where New York is arguably at its busiest. Stores all around are pulling people in with their one-off deals and tourists can't get enough of the atmosphere and sights as you witness a queue of selfie sticks peer out the crowds.
Sights to see from the Empire State building are priceless all year round, but with the addition of the festive decorations and the mesmerising lights that scatter the state, the views are truly at their optimum. We think the best time to head up is late at night, the lights of the city are beyond beautiful and it's much quieter with less queues.
Central Park and Times Square are must-visits for this time of year and ice skating in Syracuse!
Lapland, Finland
Where better to settle for Christmas than where Santa Claus lives? Enjoy a true experience of Christmas spirit as you are pulled along on a sleigh by reindeer and accommodate in a small cosy cabin.
Visiting Lapland will ensure you feel you have genuinely experienced life in a winter wonderland. Being able to 'drive' your own team of huskies for a sledge ride as well as the option to ride a snowmobile leaves you with a definite once-in-a-lifetime experience. Of course, you can also meet Santa himself and request everything you've ever wanted – all in around minus 18 degrees!
Lanterns of burning logs line the snow covered roads and at this time of year it never gets lighter than dusk. So wrap up warm, grab a burger or a pancake and pick your tipple of choice. It's a once in a life time experience not to be missed, and what makes it even better is that flying from the UK, you can even just visit for the day!
If you think you're too late this year, then definitely try and book for next as the break is like no other you would have been on before.
Bruges, Belgium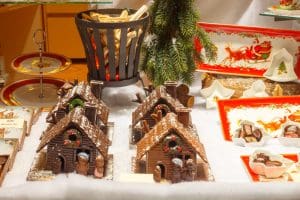 A popular destination for winter tourists is Bruges where the fumes of freshly made chocolate invade your senses as you walk down the historic cobbled streets. If you have a sweet tooth, this is possibly one of the greatest places you could visit, as the chocolate is renowned for being the best. Perfect for the winter, the Belgian hot chocolate served round nearly every corner is exquisite and the best of the best.
A great way to witness the surroundings is to take a horse and carriage, complete with blankets, around popular areas such as Markt Square and Burg Square and discover what this historically rich place has to offer.
Bruges is not only famous for its chocolate and history, but also its Christmas markets. From food to clothing, the markets provide a selection of traditional goods on offer for swarming tourists and locals to buy.
Munich, Germany
Munich is one of the most beautifully decorated places at this time of year – the lights in-particular beautifully execute a festive landscape
The main Christmas market is a prime reason for why many visit here at this time of year. It roots all the way back to the 14th century and is located on the Marienplatz in the heart of the city. Dating back to such a great time ago, you can expect to find all types of traditional and authentic pieces of Munich history, as well as local luxuries.
Most museums found within Munich are open around Christmas and New Year and are a popular hit with tourists.
A lot of visitors tend to take a tour around the area in order to catch a glimpse of Munich's main sites, however many also opt to take the bus or tram to a selection of locations stops and choose to get off when and where they want. Public transport is running all over Christmas time, so this is the perfect way to travel for some flexibility and exploration.