With stresses and strains often being caused by high flying and intense business environments, it's important to take some time out so you can recuperate back to full capacity. Mixing business with leisure, Health and Fitness Travel, the leading experts in healthy holidays worldwide, share the best wellness retreats for bleisure trips.
Having fantastic facilities for work retreats, optimise the opportunity abroad to steam ahead in the business world and enhance your fitness and well-being at the same time. Taking a bleisure trip doesn't always mean flying solo. Make your business assignment a memorable trip for two or for the entire family as you enjoy some time with your loved ones and make the most of your luxurious environment.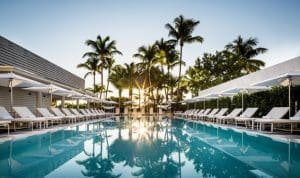 Miami: Metropolitan by COMO, Miami Beach
Located on the South Miami Beach, Metropolitan by COMO will not only give you the sensation of being in paradise, it also will satisfy your requirements for a business and leisure wellness holiday. With secluded dining areas that can host up to 24 guests inside or up to 70 outside, this wellness resort can hold large business groups and with the ability to specially plan group bonding activities or even your own food menu. Away from work, enjoy some chill time by utilising the hydrotherapy pool, letting off some steam in the gym or soothing your senses with yoga.
Croatia: Radisson Blu Resort & Spa Dubrovnik
With 8 different sized rooms that can accommodate up to 1000 people, Radisson Blu Resort is certainly more than capable of hosting large business groups on a bleisure trip. Decked out with high quality amenities like audio-visual equipment, enhance your business presentations and meetings in order to advance with company development whilst surrounded in scenic views of the Adriatic Sea and Mediterranean gardens. Enjoy paradise in a resort that emanates indulgence from the core all the way out as you optimise this great opportunity to bond with other colleagues in a variety of group activities or in the luxury spa.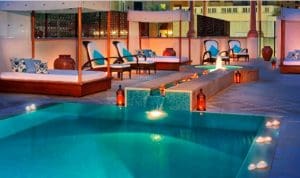 Dubai: The Ritz-Carlton Dubai
Famous for its incredible healthy holiday experiences and impressive facilities ranging from 5 swimming pools to squash courts, and 5 unique dining experiences, escape to the Ritz-Carlton in Dubai to provide you with complete business and leisure necessities. With flexible meeting venues, varied catering, state of the art tech features and efficient in-house planners, tailor make your wellness work retreat to ensure meetings run smoothly during the day, before bonding with your co-workers over a game of tennis, fitness activities or relaxing in the luxury holistic spa. 
Turkey: Kempinski Barbaros Bay
Surrounded by unspoilt natural beauty, the stunning Kempinski resort overlooks the Aegean Sea from the hillside above. This wellness holiday boasts activities like scuba diving, cultural tours or a sailing regatta for in-between business meetings. Choose from a variety of business style rooms, from theatres to banquet rooms and make the most of a different environment to work in. Enjoy cultural tours, olive picking, trekking, or turn it into a golf holiday with fellow businessmen. Reap the rewards of a corporate wellness retreat by getting to know your work colleagues in a different environment and even stay a few days extra to holiday with your partner.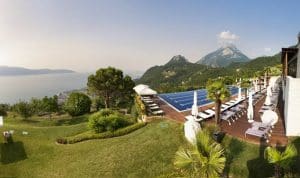 Italy: Lefay Resort & SPA Lago di Garda
Located on the magical Lake Garda, Lefay's wellness retreat offers mesmerising woodland views and adopts an eco-friendly approach to their luxury resort. Featuring different sized conference rooms including the Goethe room which can accommodate up to 80 people, and activities designed for team building activities, set off on a corporate retreat and encourage your colleagues to work together to create a loyal and positive team, developing camaraderie and synergy in business. Relieve any stress with an evening spa session or enjoy an aromatic body wrap at the wellness spa.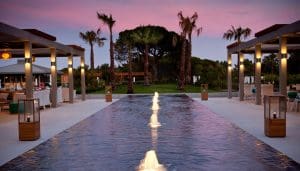 Portugal: Epic Sana
Embark on a corporate wellness retreat for business and leisure to Epic Sana, located in the stunning southern Algarve coast and help boost strong work ethic amongst your colleagues. With a theatre accommodating 1,028 people, and a U shape room accommodating 102 people, the flexibility at Epic Sana allows you to host different types and sizes of events. Enhance your wellness whilst you're there with optimum use of the Sayanna Wellness Centre and enjoy fitness coaching and a tailored diet plan to ensure you stay healthy back at work.
For advice, guidance and booking visit www.healthandfitnesstravel.com or call 0203 397 8891
About Paul Joseph:
Wellness Travel Specialist and Entrepreneur, Paul Joseph, is the co-founder of Health and Fitness Travel, a global leader in wellness holidays worldwide. Always ahead of the curve in pioneering new health programmes that revive the soul, boost fitness or address serious health issues, the worldwide wellness tourism industry has now become a multi-billion sector, growing faster than travel in general. Paul has a wealth of PR, Marketing, Sales and Management experience in the health and tourism industry, consulting leading hotels on their wellness strategy and contributing regularly to broadcast and media interviews.