Being a popular city escape for both business and leisure travellers, Oakland is the perfect destination to seek entertainment, as well as capture breath-taking scenery.
Here are some of the popular hotels the famous city homes:
Best Western Plus Bayside Hotel
Location: 1717 Embarcadero, Oakland, CA 94606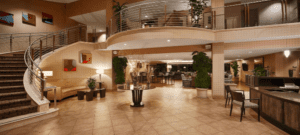 Being number-one-rated hotel in Oakland on TripAdvisor, this popular waterfront hotel makes quite an impression on its visitors. With the convenience of San Francisco being close-by, the hotel is in a perfect location for both business travellers and tourists.
The advantage of fast-to-catch flights from the nearby Oakland airport works in the favour of many residents at Best Western Plus.
From the particular area in which the hotel is placed, you'd expect to see glorious views of Oakland's waterway – and the rooms do not disappoint. Each of the waterside rooms include either a patio or balcony, where you can often catch a glimpse of the densely populated San Francisco. A ferry ride or 12 minute ride on the BART will take you to downtown San Francisco – a great way to explore the surroundings.
Business travellers love the fact that they can reach San Francisco's Moscone Convention Centre so quickly via the BART, and love the convenience of the hotel being centrally located in the Bay Area. Appealing destinations such as Oakland A's Stadium, the Oakland Raider's Coliseum and Warrior's Arena are all easily reached from the hotel.
Best Western Plus has an outdoor swimming pool, fitness centre, business centre and hotel amenities include free high-speed wireless internet, free parking and dry cleaning/laundry valet services, along with multilingual, attentive staff to cater for your every need.
Oakland itself is an appealing city, being the largest and the county seat of Alameda Count, California. Being famous for homing a wide variety of unique restaurants and innovative takes on food and art, Oakland is praised for its character.
Location: 10 Washington Street, Oakland, CA 94607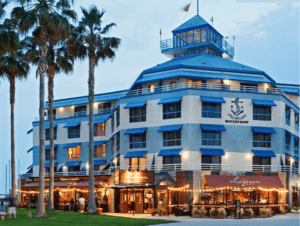 In the prime hotspot of Jack London Square, the hotel is close-by to endless opportunities to eat, watch a film at the cinema or experience the live nightlife on offer. Chances to rent a kayak or charter a boat are also a popular option for many visitors.
The Waterfront hotel is a convenient 20 minute ferry ride away from the city's sights, five minutes away from the Amtrak station, as well as being near Interstates 80, 880, 580, 980 and Highway 24 – so, transport links are not to fault!
This popular stay for all types of visitor is a boutique hotel, so expect to witness the comfortable rooms, flushed with modern interior and polished furnishings to compliment the stylish surroundings in the vicinity. Waterfront views of San Francisco Bay add the luxury feel, making this hotel a perfect place to settle in this beautiful yet buzzing location.
Free Wifi, complimentary in-room coffee and tea, in addition to complimentary wine and cheese hour during the week are all on offer at the hotel.
Want to create an impression hosting an event? With 13 versatile event and meeting rooms at the hotel, of which several offering picturesque waterfront views, colleagues and clients are bound to be impressed by your choice of venue.
Location: 8471 Enterprise Way, Oakland, CA 94621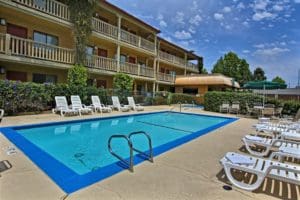 With this newly-renovated, perfectly located hotel being nearby to Oakland International Airport and the Oakland Museum of California, you are not limited to experience the best of the surroundings.
More specifically, the pet-friendly hotel is off Enterprise Way which allows you to reach other popular destinations such as the Oakland Aviation Museum, Chabot Space and Science Centre, and East Bay Regional Park District.
Exploring doesn't stop at Oakland as easily accessible San Francisco attractions such as Yosemite National Park and the Silicon Valley area are within an hour's drive away from Quality Inn.
The hotel praise themselves on prioritising attentive service for their visitors, with amenities such as free Wifi, free airport transportation, complimentary deluxe breakfast and an outdoor pool and hot tub.
The rooms at Quality Inn offer a comforting stay with premium bedding and hotel room must-haves. With each room having a coffee maker, hair dryer, iron and ironing board, with selected rooms homing refrigerators and microwaves, you won't be disappointed. Furnished beautifully makes the rooms even more appealing and many have revisited after having stayed before.
Business travellers love the accessibility of the hotel's business centre which supplies copy, print and fax machines within, as well as a computer with internet.
You can fly in premium to Oakland California from £399 one way