The hometel Belfast has been waiting for, Lamington Group's eco-friendly hometel, room2 opens its doors in the city this morning.
Proud holder of a gold rating in the Green Tourism Award, as well as a Platinum holder in the Greengage ECOsmart Accreditation, the new hotel (hometel) is set in the heart of the bustling city, just moments away from Belfast's most popular attractions. Consisting of 175 rooms across nine floors, the property also features a vibrant café, buzzing bar, elegant lounge and beautifully designed tea room, alongside meeting and event spaces and a spacious gym. The hometel is designed to be a welcoming and sustainable space to work, relax or catch up with friends and family. This is real estate investor and developer Lamington Group's fourth outpost and first property outside England.
Circular Design
Lamington Group places sustainability at the heart of every decision and is dedicated to creating environments that have a positive impact on the health and wellbeing of all visitors, employees and planet. The building runs on 100% electric and low carbon renewable energy and is committed to a circular economy, thereby eliminating waste and pollution through circulating products and materials.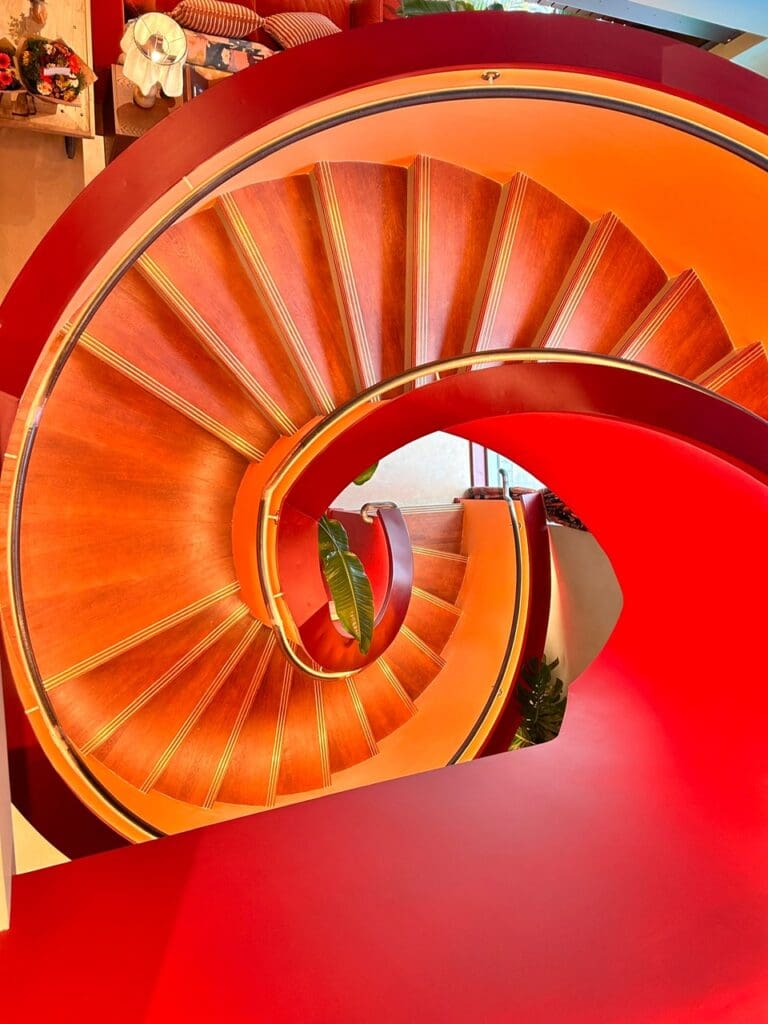 Highlights of room2 Belfast include a reception desk made with soap bottles from room2 Chiswick, (the world's first net zero hometel that opened in 2021), carpets made from recycled fishing nets, and a café bar made with recycled glass. Throughout the design process, the team has worked with a range of local and eco-conscious artists and suppliers to celebrate their work, such as Jamie Beard, a Northern Irish illustrator, whose portraits feature in all of the bedroom wardrobes via a specially commissioned wallpaper. The hometel has also collaborated with Mullan, a local lighting company that has supplied 350 wall lights for the guest rooms, all made just 50 miles from room2 Belfast itself. Additionally, the team has partnered with the start-up brand Spared® in an aim to challenge the notion of waste within the hotel industry and breathe life into waste materials, as showcased through the reception desk and café tabletop.
Beautifully designed and fitted with carefully selected pieces from local designers and skilled craftsmen, with a selection of bedrooms featuring a fully equipped kitchenette and separate living space, providing the perfect base for a flexible city stay, whether guests are looking to visit for a night or a month.
Dine with a conscience
room2 has recently launched the brand new Winnie's Cafe & Bar in Belfast, to provide the city with a fresh eco-friendly food and drink service. The sustainable cafe will provide a short menu celebrating local producers using seasonal ingredients. The Lamington team has checked the carbon footprint of all dishes and will reuse all single use items, as well as using suppliers who offer completely packaging-free deliveries. The Cafe and Bar will offer both guests and drop-in visitors a hot buffet and a la carte breakfast, and all day dining menu (10am-10pm), with dishes such as freshly baked focaccias and delicious salads with seasonal vegetables as well as a varied drinks menu featuring zero waste cocktails such as the Irish Negroni and Espresso Martini using room2's own ground coffee. Winnie's Cafe & Bar will soon be introduced in both room2 Chiswick and room2 Southampton.
Community First
As well as the local environment, room2 Belfast is supporting local talent, showcasing artists and designers throughout the property, and will also offer a lively schedule of events, such as open-mic nights and art shows with up-and-coming artists. Hoping to give back to the Belfast economy as much as possible, room2 also aims to hire the majority of on-site staff from the city.
Robert Godwin, CEO of Lamington Group commented, "We are so excited to open our first property outside of England and expand into the lively city of Belfast, bringing our unique hometel experience to a new location. Belfast has been so welcoming to us, and we are thrilled to make strong connections in the community through employing local staff who know the city inside out. Through working with home-grown talent and suppliers we aim to support the  local economy whilst also inspiring both guests and residents to live in an environmentally conscious way."
room2 Belfast follows the room2 hometels' values of people, planet, places, providing a place to live not just to stay, through the apart-hotel style concept and personal service. As well as mattress menus and 24-hour stays with check in at 2pm and check out at 2pm as standard, the building will have a laundry room, and co-working areas. This offering is designed to appeal equally to corporate and leisure guests looking for a vibrant and comfortable stay in the heart of the city, where they can truly feel at home.
Double rooms at room2 Belfast start from £130 per night.
The hometel is now open for stays and bookings at room2.com Follow @room2hometels on social media and sign up to room2's mailing list today to be one of the first to hear about exclusive pre-opening offers and events: https://room2.com/family/