BASH (Build Amazing Startups Here)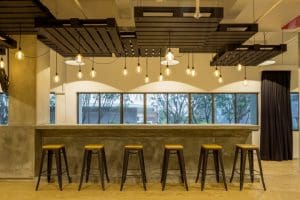 Singapore's biggest integrated startup space, BASH, aims to enhance opportunities, acceleration and expansion, through gathering the likes of accelerators, investors and incubators all under one roof.
The location of BASH is deep in the heart of Singapore's startup means BASH is ideally placed to help accelerate startups to grow and expand.
The roughly 25,000 square foot flexible and accessible office offers facilities that include a prototyping lab, valuable mentorship and community networks, all of which aid to generate a driven tech product startup to success.
To cope with the contrast in needs of the users, BASH is zoned thematically:
Brewery
Brewery supports community building activities including networking sessions and workshops. This is also a great meeting point to discuss and generate ideas.
Hatchery
Designed to support Infocomm Investments Accelerator initiative, Hatchery provides large space for multiple accelerator programmes to run, including those in partnership with strong partners, such as FinTech. These programmes can help mentor and build a strong pipeline of Singapore-based tech startups that can tackle international hurdles.
Factory
Factory tends to support the startups that have proceeded from Infocomm Investments Accelerator programmes through a co-working space for them to continue receiving guidance, as they graduate business traction and market access.
Chill
Chill is exactly as you would expect. A place for the tech community members to hangout, meet and mingle – enabling an exchange of knowledge and ideas to formulate.
Infocomm Investments aims to build Singapore's tech entrepreneurial ecosystem by congregating both local and global like-minded entrepreneurs together at BASH.