Location: Belgravia, West London
Pricing: Starting from £165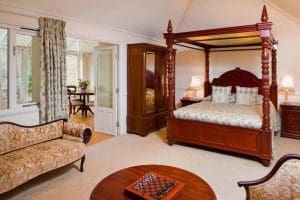 Part of the world renowned Mantis Collection, The Lord Milner is one of London's finest luxury boutique Bed and Breakfasts that offers the optimum of class, catering for your every need. Being situated in the heart of one of the city's most prominent and exclusive districts, Belgravia, this is an ideal location for those that appreciate the Edwardian history and periodic ambiance that it offers.
The Lord Milner is a unique, yet elegant stay that mostly accommodates business people, yet welcomes all types of residents. All rooms and suites have a beautifully crafted design, and are embellished with marble en-suite bathrooms.
This stylish accommodation presents a perfect combination of homely feel and fashionable lifestyle, supplying it with unique character and a welcoming vibe.
The Lord Milner is only metres away from Victoria station, offering convenience and easy access to routes around London. The central, yet discreet aspect of the location allows experience of both elegance and the buzzing energy of the capital, with optional access to quiet spaces for those that prefer to chill, relax, and unwind.