After being a guest at Le Royal Meridien, I can state first-hand that it is an undeniably faultless level of accommodation which certainly lives up to its five star rating.
From the moment you step out of your transfer/taxi, you are in the welcoming hands of the friendly and attentive staff who await your arrival at Le Royal Meridien. If you want to feel like royalty, this is the place to be! You are encouraged to relax as your cases are transferred to your room and the prompt access to your room creates a great impression.
The hotel itself is graced with amazing interior design, with quirky touches such as hanging chairs suspended from the ceiling in the main reception area and peculiar artwork scattered around the vicinity. Despite this modern persona throughout the hotel, in the rooms – the one in which I stayed in, they take a more traditional approach, featuring solid, wooden beds with intricate detailing. However, rooms still have your much needed electronic amenities; hairdryer, television, telephone.
Views offered from the rooms are truly spectacular.
I was lucky to stay in an elite room which enabled me to witness the picturesque landscape of the Persian Gulf being overlooked by the variety of glass panelled skyscraper buildings, and what a sight it was!
Offering three pools, one being an infinity, there is something for everyone, including guests with young families. Not to mention the fact that the hotel has its own private beach and well-manicured tropical gardens. It truly is a delight to see.
Le Royal Meridien is also home to eight restaurants offering an international choice of cuisine to suit a range of palates. 'Zengo' is particularly favoured by myself, which presents a variety of Asian favourites.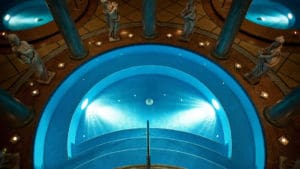 As well as this, there is a hair salon, jewellers and general shop within the hotel, in addition to the spa and gym facilities. If
you don't fancy a shop, there is always a chance to wind down and relax to the optimum in the spa from access to haram pools, sauna and jacuzzi, or you can select a treatment from the wide selection on offer.
Business or leisure, the hotel accommodates for all with its eight meeting rooms and when I visited the hotel, the Sports Bar was a very popular choice for outside business meet-ups where people can talk over a coffee, breakfast or lunch in a warm and relaxed environment.
The 15t
h floor in the Tower Building is solely dedicated to events such as meetings, launches, etc. Being the top floor of the building, the views are likely to be the best you can witness from the hotel, which makes your business-related experience just that little bit better!