AccorHotels today opens its new flagship Novotel in London's Canary Wharf to guests.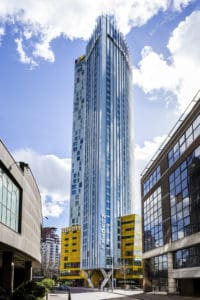 The hotel, which represents a £90 million investment from AccorHotels, situated at 40 Marsh Street and at 127 metres high, is one of the tallest buildings in the area, with 360 degree views of London taking in sights including The Shard, the Olympic Park and Greenwich Park.
Visitors can enjoy amazing views of London from the top floors at the ultra-modern Bokan 37 restaurant, Bokan 38 bar and Bokan 39 roof terrace, which are set to be destination venues in their own right. A coffee shop, Canary Coffee, on the ground floor has been developed to serve the needs of the local working population as much as hotel guests.
The hotel has 313 rooms including 26 individually-designed suites, and offers nine meeting rooms, all of which have innovative and individual designs based around the commodities brought in from the Canary Islands.  It also provides a state-of-the-art gym, swimming pool and sauna on the lower ground floor and free Wi-Fi throughout.
The opening creates around 150 jobs, ranging from managerial roles to receptionists, bar and restaurant staff. It marks another boost for the London hospitality industry, which directly employs 517,000 people, accounting for 18 per cent of all the UK jobs in the sector and 9 per cent of all jobs in the capital across all sectors1. Employees have been selected for their passion and personality in order to fit into a reinvented, guest-focused hospitality experience where check-in is facilitated on iPad with no reception desk in sight.
This hotel will be the first of the group's UK portfolio to contain a vegetable garden, in line with AccorHotels' PLANET21 plan to support urban agriculture by planting 1,000 vegetable gardens in its hotels by 2020.
It has also been designed sustainably with a wide range of initiatives aimed at achieving a BREEAM Excellent rating. BREEAM is
the world's leading sustainability assessment method for masterplanning projects, infrastructure and buildings, measuring sustainable value in a series of categories, ranging from energy to ecology.
Sustainable features in Novotel Canary Wharf include:
·        
A Combined Heat Power system that will contribute to a 30 per cent reduction in CO2 emissions
·        
Light regulation system that adjusts the level of light according to the time of day and season
·        
Beehives on the 39
th
floor – believed to be the highest in the UK – that will produce honey for guests
·        
Recycling of cooking oil, general waste, soap and bottled bathroom products
·        
Use of eco-friendly food products and products from local suppliers and short supply chains
Thomas Dubaere, Managing Director of AccorHotels UK & Ireland
commented:
"Canary Wharf will be the iconic Novotel for AccorHotels UK & Ireland and aims to become the place to be in the Canary Wharf business area. Joining a network of 33 Novotel in the UK, this unique hotel is a shining example of our ambition to create innovative, guest-focused, sustainable accommodation that caters for the changing requirements of the modern-day guest as well as providing first-rate services for the local population."