With the opening of the Escape Lounge At Oakland Airport we checked out the Premium flight with Norwegian Air to Oakland, California.
Norwegian, whilst a budget airline cannot be described as budget when it comes to customer service, and is perfect for business or corporate travel. Flying premium allows customers to shortcut the line at security and access the No. 1 lounge as part of the ticket and experience first class service throughout the flight.
Flying out of Gatwick at lunchtime arrived early to make sure we had plenty of time to check the lounge and Norwegian Premium experience. The premium treatment starts as soon as you hit security. Whilst you don't get to jump the queue, it is a much shorter wait and means you get through quicker than flying economy, plus who wants to actually wait in that queue anyway!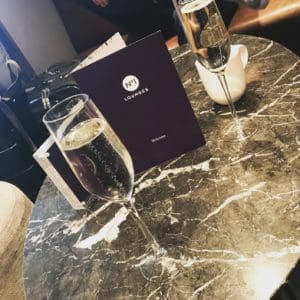 Once through security we headed to the No. 1 lounge. Whilst you are able to book this as part of any ticket, the price for premium travellers is part of the booking cost already. Arriving early we had plenty of time to check out the newly decorated lounge, and with four of us travelling we managed to quality control a large selection of the food on offer and the drinks menu. The lounge isn't overcrowded and there are plenty of sockets to charge your devices before you fly. The only thing letting the lounge down, the gluten free options. One of our group asked for gluten free toast and was given gluten free bread due to the toaster not working…. that's as exciting as the food got for her.
The Cabin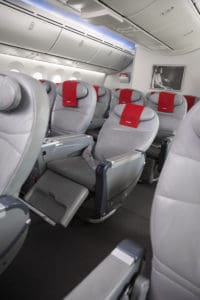 One of the perks of flying premium for me is the lack of queues. I hate queuing, and whilst you always need to wait at the gate, flying premium allows you to board first and get sorted and settled even before the rest of the plane has finished finding their seats. The premium cabin is large with 35 seats in total. The seats are roomy and have an adjustable footrest to make sleeping easier. Each seat is equipped with a universal plug socket and USB port to make working and charging your devices a breeze, and also comes with its own TV (hidden in the arm of the chair) and small table, there's enough room to use a laptop or tablet whilst watching TV if you choose.
The flight
With the outbound flight coming in at around ten hours and landing in the afternoon I decided to try and make it through without sleep. If you take the same approach then I recommend downloading some viewing materials, whilst there are a number of films and TV shows on the entertainment system, the choice is not endless.
Every time I fly Norwegian I'm impressed with the customer service. From taking your seat to leaving the plane, the cabin crew are attentive and friendly, and as you would expect from premium, the food and drinks are complimentary.
I normally avoid airplane food like the plague, and whilst I wasn't looking forward to trying it, I was pleasantly surprised. It's not going to win Michelin stars anytime soon, but it was pretty good. With the beef option I also got a quinoa salad and some petit chocolates, which were a nice touch. I'm also reliably informed that the gluten free option was impressive and the backup sandwich that was bought from M&S just in case, wasn't needed.
The drink selection during the flight was good, with crew on hand with glasses of water and juice throughout the flight and a selection of wine, beer and spirits there was something for everyone's tastes.
Verdict
I got off the plane tired but ready to go, only forty minutes out of San Francisco and right next to the BART terminal Oakland airport is hugely convenient for business travellers. With lines heading to San Francisco, Oakland and Berkeley it's a great, if slightly dated transport system.
Oakland airport itself has only just become an international airport, but speaking to local businesses, this move is a game changer for the area. Though the airport has some work to do to make sure they can provide for the their new international clients, it took far too long to get through border control, you can tell work is being done to get over these hurdles.
I'd recommend both the flight and the airport to anyone looking to fly to the west coast or as an alternative to San Francisco.
You can fly in premium to Oakland California from £399 one way