Italy's fashion capital is encrusted with elements of entertainment and attractions within its vicinity. Brushing aside the city's famous fashion links, Milan also has masses of historic ambiance for you to explore and experience in the spare hours you have left over from your business trip.
Da Vinci's Last Supper (Il Cenacolo)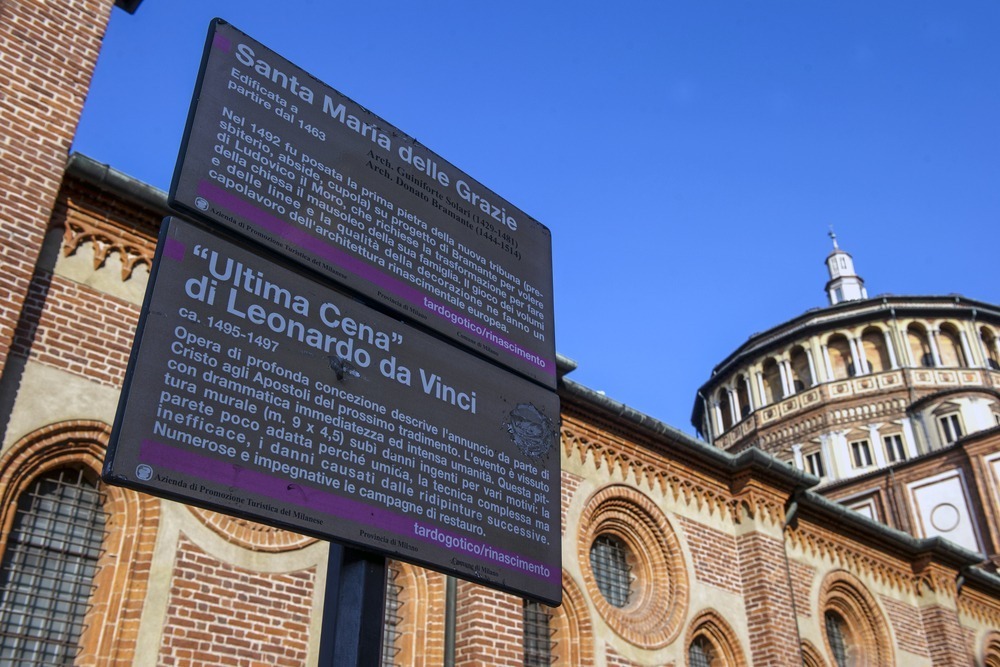 Address: Piazza della Maria delle Grazie 2, Italy
Hours: Tues-Sun 8:15am-7pm. Closed Mondays, plus 1st Jan, 1st May, 25th Dec
Admission: From €10
If you're a lover of art, this will be on the top of your list to visit in Milan. The famous late 15th century wall painting of Leonardo da Vinci's 'Last Supper' is unsurprisingly one of Milan's most popular attractions, receiving up to a maximum of 1075 visits a day. The high demand to witness such a world-famous piece means that visitors are encouraged to book well in advance and advised to buy a skip-the-line ticket.
The mural painting demonstrates the religious moment where Jesus predicts the betrayal of one of his apostles. Being such a historically rich piece of art, it has had to face environmental impact, as well as the depredation of war. It has been restored numerous times, with a recent restoration completed in 1999 where the colours have been softened from its previous restoration.
Location info:
The Church of Santa Maria delle Grazie is located between two metro stations: Conciliazone and Cadorna Triennale and is a 15 minute walk from the Duomo, or an optional quick taxi ride.
Duomo di Milano
Address: Piazza del Duomo, Milano, Italy
Hours: Depending on time of visit: see here
Admission: from £18.80
Ranked as the top 'things to do in Milan' on Trip Advisor, the Milan Cathedral is definitely a must-see of Milan. With beautifully stained glass windows and exquisite marble flooring, this church will be one to stand out from the many you may have graced before.
Visitors are able to access the roof area where you'll be able to absorb the breath-taking views that stand in-front of you.
Location info:
You can get any metro to Duomo station or for the tram: 2 and 14 stop Torino, 15 stop Piazza Fontana, 16, 24 and 27 stop Mazzini.
La Scala Opera
Address: Via Filodrammatici 2, 20121 Milan, Italy
Hours: Mon – Fri 09:00 – 12:30, weekends 13:30 – 17:30
Admission: Around £26.30
You may seek interest of somewhere with perhaps a more musical background, if so, La Sala Opera is a fitting option for you to visit. Being built in 1778, this world-renowned opera house has been the home of many compositions from the likes of Rossini, Puccini and Verdi.
Visitors can take a tour of the opera house, allowing you to see the thorough inside of the building. Although you cannot go into the theatre, you can still access one of the boxes that offer a bird's eye view of the opera house.
The tour is roughly two hours long, so it's great if you are staying nearby and have a couple of hours spare on your trip.
Location info:
The opera house is a 5 minute walk from Cordusio metro station.
Stadio Giuseppe Meazza (San Siro)
Address: Piazzale Angelo Moratti, 20151 Milano, Italy
Hours: 9:30am – 6pm
Admission: Around €17
For the sportier traveller, taking a tour of the home stadium of both AC Milan and Inter Milan football teams may be more on the ball.
With a seating capacity of 80,018, more commonly known San Siro, is the largest stadium in Italy and also one of the largest in Europe.
This impressive landmark is a great place to visit, not just to relive the atmospheric football moments that have been present there, but also the musical ones too. The stadium has housed many concerts from past and present legendary artists such as Bob Marley, David Bowie, Michael Jackson and Madonna.
Location info:
West of Milan at approximately 5 kilometres from Milan's city centre and more than 7 kilometres from Milan's central railway station. The nearest metro stations are San Siro Ippodromo and San Siro Stadio, both a short walking distance from the stadium.