Germany's hub airport Frankfurt saw traffic jump by nearly 20 per cent in September compared with the same month last year but passenger numbers remain below the corresponding pre-Covid period.
Airport operator Fraport said Frankfurt catered for 5.8 million travellers last month but this was still 13.9 per cent below traffic levels recorded in September 2019.
For the first nine months of the year, Frankfurt served 44.5 million passengers, up by 23.9 per cent on the same period in 2022 but 17.8 per cent lower than during 2019.
Frankfurt's recovery from the pandemic has so far lagged other major European hubs, such as London Heathrow, which last week announced a record-breaking September for traffic with 7 million passengers.
Fraport added that its global network of regional airports had seen year-on-year passenger traffic grow in September by 12.1 per cent to reach 19.3 million travellers.
Frankfurt airport has also launched a trial of new walk-through scanner technology, which it says is designed to speed up security checks.
The Rohde & Schwarz R&S QPS Walk2000 is currently situated in Concourse A of the airport's Terminal 1, with participating passengers able to walk through the scanner "at a normal pace without stopping".
The 360-degree scanner uses millimetre-wave technology which can penetrate several layers of clothing, "making it unnecessary to remove jackets and coats", and AI-based detection software identifies metallic and non-metallic objects.
Any anomalies are displayed in real time "on a unisex avatar", which the airport says reduced the need for follow-up checks – but if a check is needed security staff can then focus on the areas that have triggered an alarm instead of needing to pat down the passenger.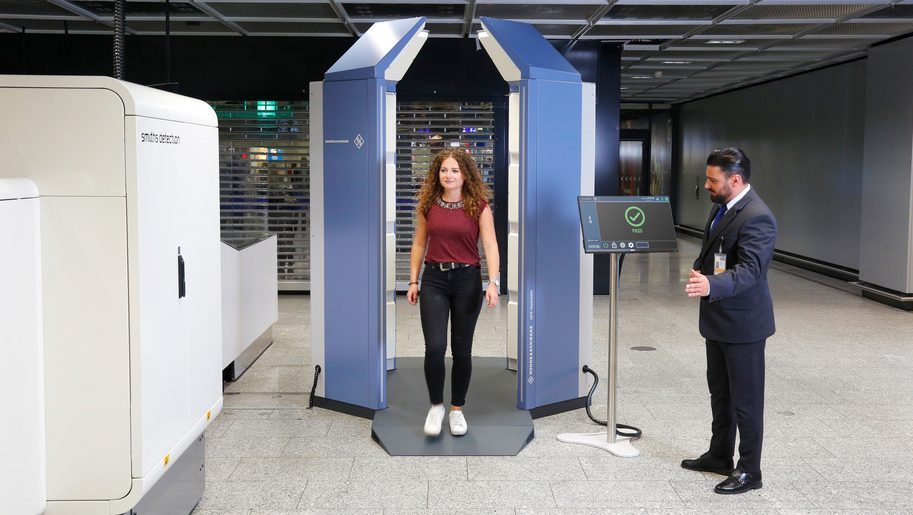 Fraport acquired and set up the scanner, and it jointly evaluating the technology with the German Federal Police, who will ultimately decided whether to grant approval for its use in day-to-day operations.
Frankfurt airport said that the Schengen Concourse A of Terminal 1 had been chosen for the trial due to its high footfall, with an average of 15,000 passengers using the concourse each day.
The airport currently uses Rohde & Schwarz R&S QPS201 scanners, and said that the trial would allow for a direct comparison of the technologies, with the aim of making "walk-through security checks for passengers just as reliable as the highly efficient checks provided by the R&S QPS201".
Full body scanners have been in place at many airports for some time, but these generally require the passenger to stop for the scan to take place, rather than being able to continue walking through.